Beginner Muay Thai Kickboxing Classes Enrolling In December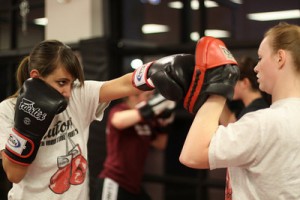 Muay Thai, or the art of 8 limbs, is the most effective and devastating striking style in existence. It's the go to choice of striking for professional fighters. If you've every watched a fighting championship on TV, there's one thing you'll notice: Everyone is in absolute shape! That's because the workout involved with Muay Thai Kickboxing provides all the benefits to shape, sculpt and tone your body and mind and literally transform you to a "new you". But that's not all... The best part is that you do not have to be a fighter to enjoy Muay Thai Kicboxing classes, and you're still going to learn real, practical skills that could save your life!
Kick Yourself Into Incredible Shape With Muay Thai Kickboxing Classes In Benton!
Revolution Mixed Martial Arts Muay Thai classes will help you achieve incredible endurance, flexibility, and coordination immediately, all while you are having the time of your life and meeting new friends in our high-energy, high-excitement classes. Each class is fun with a level of fitness to suit you and build upon your existing skill set.
Revolution Mixed Martial Arts offers Muay Thai to both men and women and can accommodate amateur and professional fighters as well as those who simply want a fighter's workout in a safe training atmosphere.
Get Started Today!
Why wait? Get into the best shape of your life with Revolution Mixed Martial Arts Muay Thai Kickboxing classes. Just fill out the short form on this page to get all the information you need to get signed up immediately. Revolution Mixed Mertial Arts proudly serves Benton, Bryant, Little Rock, Maumelle and Hot Springs areas!
Benefits of Muay Thai Kickboxing
Watch Fat Melt Away
Improve Cardio & Build Lean Muscle Mass
Sculpt Your Shoulders, Arms, Legs & Butt
Increased Flexibility, Speed & Quickness
Walk With Confidence
Boosted Mental Clarity and Improved Social Relationships